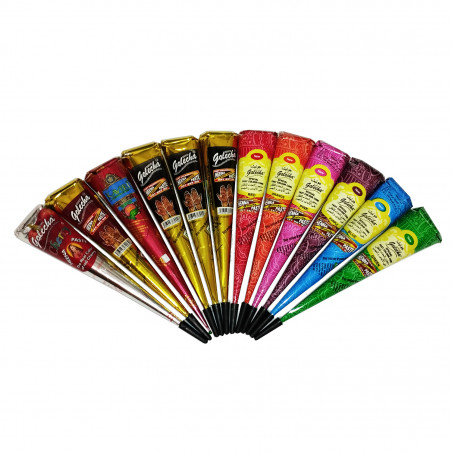  
Multicolor henna set, 12 cones
The set includes: 
3 cones of black henna
One cone each:
Red cherry henna
Maroon henna
Natural brown henna
Red henna
Orabge henna
Magenta henna
Purple henna
Blue henna
Green henna
Security policy
Delivery policy
Ready to use henna-dye paste, packed in cellophane cones.
The set includes two types of henna:
1. Natural henna for tattoo, brown color only.
2. All other colors mean "fast" henna-dye for tattoo. It has the appropriate color immediately after application on the body.
Color of natural henna appears during 24 hours. Though natural henna drawing lasts a bit longer than fast henna drawing. First hours the drawing has a light orange color similar to iodine.  But during the 24 hours it gradually darkens and becomes dark brown. The natural henna drawing can be lubricated with essential oils to improve the color, but this is not necessarily.
If such a drawing is not rubbed with a washcloth or scrub, then it lasts about a week. 
"Fast" henna-dye is black color and others, which will create a bright temporary tattoo. You can wear it for 5 days. It is a synthetic henna, which doesn't need any oils to improve the color. You have already the appropriate color.
How to use:
1. The skin ought to be clean, defatted and dry.
2. The cone preparation for painting:
- natural brown henna-dye – just pull the ball at the end of the cone and pull out the plastic needle, with which the hole was closed. This hole is enough to draw lines of optimal thickness, no need to cut the cone with natural henna. Then squeeze a small amount of paste on a napkin. Do this whenever you start draw, because the natural henna can dry out a bit at the very edge of the cone. 
- "fast" henna-dye – make a hole in the cone by cutting a cone tip. The smaller tip is cut, the thinner tattoo lines will be.
3. Draw by squeezing the paste out of the cone.
4. When the drawing is ready, leave it to dry for at least 30 minutes. The thick lines can dry longer.
5. Fast henna-dye Golecha creates film after drying, which easy to remove with the nail.
Dry natural henna can be scraped off, for example, with a plastic card. But you need to wait for its completely drying.
6.  Temporary henna tattoo is not afraid of water so is washable, but avoid friction with a washcloth or scrub.
No customer reviews for the moment.
Customers who bought this product also bought: