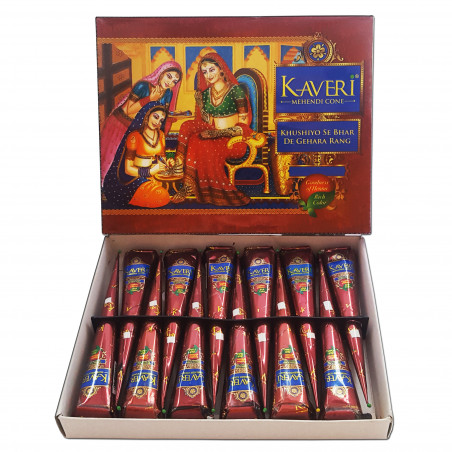  
Natural herbal henna for tattoos Kaveri - dark brown, box of 12 cones
Dark brown henna for temporary tattoos Kaveri lasts on the body for 1-2 weeks, consists entirely of natural ingredients.
Date of manufacture: August 2023
Security policy
Delivery policy
Natural brown henna for temporary tattoos Kaveri is a ready-made paste for body painting. Kaveri is one of the most famous brands in the world, used by famous mehendi masters.
Mehendi is the traditional Indian art of painting the body with henna.
Kaveri mehendi henna shows its color on the body not immediately. At the beginning the pattern is light orange in color, but within 24-36 hours it darkens to a dark brown color. The richness of the color depends on the type of skin and the place where the henna is applied, especially the saturated color on the palms.
In the photo you can see how the henna pattern looks immediately after application and what color it has the next day.
Kaveri henna for tattoos consists of natural ingredients and does not contain any chemical dyes. It is henna powder mixed with essential oils, which not only improve the color of the pattern, but also give the henna a pleasant fragrance. The henna powder is made from dried leaves of the Lawsonia. The upper leaves, which are more saturated with natural dye, are specially collected for body painting. The lower leaves go for hair coloring because there is less concentration of the dye.
Henna colors only shades of brown. Black and other colors are obtained through artificial dyes.
Kaveri henna for mehendi in the form of a ready-made paste packed in cones of special film, it is all handmade. The special thing about natural henna is that it can penetrate through the packaging, so the box inside and the cones themselves may be a little sticky. Of course, we wipe down the cones before shipping your order, but the paste can still leak a bit through the packaging during shipping. So if the cones came to you somewhat sticky, that's normal for natural henna.
Method of application:
before drawing henna on the body, wash the skin area with soap and water, preferably with a scrub, dry the skin area;
remove the cap from the cone by pulling the small ball at the end of the cone;
squeeze the paste out of the cone to create drawings;
while the henna dries, handle the drawing carefully so as not to smudge the lines accidentally;
once dry, hold the henna for another half hour and then peel the dry henna off the skin.
Treating the finished drawing with essential oils makes the color of the mehendi richer. Eucalyptus, lavender, tea tree and cajeput oils are the most suitable for this.
Before drawing, you should not lubricate the skin with any oils, the skin should just be clean and dry.
No customer reviews for the moment.
Customers who bought this product also bought: